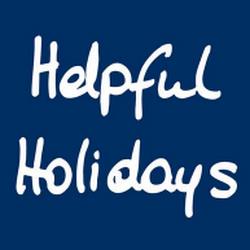 Helpful Holidays
Mill Street
Chagford
Devon
TQ13 8AW
Similar stores to
Helpful Holidays
Helpful Holidays
Holiday Cottages in Cornwall
Spectacular coastline with golden beaches and little harbours. Cornwall is perfect for those with a spirit of adventure, especially water babies, with lots of exciting outdoor activities to explore
Holiday Cottages in Devon
Dartmoor and Exmoor's huge skies and towering tors sweep down to thickly wooded cleaves with rushing rivers meandering to the coast, where dramatic cliffs are punctuated by sandy coves
Holiday Cottages in Somerset
A beautiful uncrowded county of dairy cows in lush water-meadows, huge rolling cornfields, immense views, cider apple orchards, luxuriant cottage gardens and hedgerows alive with songbirds
Holiday Cottages in Hampshire
From the bustling port cities of Portsmouth and Southampton, rich in nautical history, to the natural beauty of the New Forest, the coastline with its chalky South Downs cliffs and miles of beaches
Holiday Cottages in Dorset
Chalk downs, chalk cliffs and chalk streams with mottled trout and dark-thatched cottages with exuberant flower gardens to green tree-speckled farmland looking magnificent from wooded hilltops
With nearly 40 years experience in holiday letting in the South West, Helpful Holidays is an award winning holiday cottage company based in the small market town of Chagford, on the edge of rural Dartmoor.
A collection of properties can be found in key destinations across the West Country. From the depths of the New Forest to Dorset's Jurassic Coast, across the Devonshire moors and coastlines to the westernmost point of Cornwall.
The West Country has a little something for everyone. Head to Cornwall for exhilarating surf, incredible beaches and the delicious food scene. Explore Devon's picture-perfect harbour towns or hike across either of its rugged National Parks. Hunt for fossils on Dorset's impressive coast or amble amongst its rolling hillsides. You won't be disappointed.
These cottages in the West Country can suit any type of holiday, with a range of dog-friendly cottages for you and your four-legged friend. Luxury cottages for that romantic break. Large properties for a special family holiday. Cottages with hot tubs, cottages by the beach and cottages ideal for those with limited mobility.
Use any of our valid Helpful Holidays Voucher Codes, Deals and Special Offers towards your special cottage break.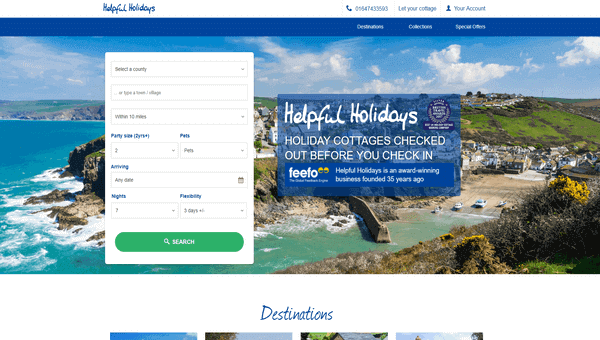 - View Cottages -
Mobility Easy Access Cottages
There are two types of cottage are particularly recommend for people with mobility difficulties: those suitable for wheelchair users and those suitable for people who find walking or steps difficult
If the access from parking to the cottage is short and fairly level, living room and kitchen are easily accessible and there is a bedroom and well-equipped bath or shower-room at entrance level, it is identified as 'suitable for those who find walking difficult'
If a cottage is described as 'suitable for wheelchair users', it means the building and facilities have been specifically designed with wheelchair users in mind.
- View Cottages -
Large Holiday Homes
Huge houses, masses of them, in beautiful locations all over the West Country.
Secluded farmhouses, historic manor houses, vast converted barns, seaside houses overlooking beaches – all are available for your exclusive use.
Become lord of the manor for a week, treat your friends to a weekend of jollification, gather the family together for a special reunion, or even take the plunge and tie the knot in a house with a wedding licence.Take the children, the dogs, the grandparents and let your hair down. Hire a chef to serve up a delicious meal for a special occasion.
- View Cottages -
Romantic Escapes Cottages
Love is in the air… nothing is more romantic than a picture-perfect cottage in the beautiful West Country.
Cosy log fires, candlelit suppers, hot tubs, pretty bedrooms, deep roll-top baths…
Spend time together at a romantic West Country cottage, stroll along the beach and through sun-dappled woodland full of birdsong – the perfect retreat!
- View Cottages -
Child Friendly Cottages
Holiday cottages are perfect for families with children. You have freedom and space: the choice to breakfast in PJs, play riotous tag round the garden, flop in front of a family movie or board games, cook up family favourites and eat together and put the little ones peacefully to bed when you're ready at the end of a happy day.
There's fun right on the doorstep: seaside for sandcastling, rockpooling and surfing or countryside for picnicking, kite flying and wild swimming.
These family-friendly cottages, all non-smoking, have cots, highchairs and a babysitter to call when you're ready for a grown-up evening out.
- View Cottages -
Dog Friendly Cottages
Your dog is part of the family and a cottage holiday means your dog comes too
The West Country has miles of open space, stunning scenery and a warm relaxed welcome for two and four-legged visitors. Cottages sit beside dog-friendly beaches for cavorting on the sand and paddling, then cliff-top walks on the spectacular South West Coast Path beckon.
Inland is perfect dog-walking country too: heather-clad hills, crisp woodland, time-forgotten byways with rabbity scents to rummage. Country pubs keep doggy treats ready and many West Country attractions admit dogs with well-behaved owners.
- View Cottages -
Beach Cottages
Seaside holidays are proper holidays which are great fun for everyone. Take your picnic baskets down to secret cove beaches; shedding clothes and authority to build fairytale sandcastles and splash through 'white horses'.
The West Country, its coastline dotted with clean beaches washed by warm southerly rollers off the Atlantic, is world-class for surfing, bodyboarding and simple pleasures of paddling in the shallows with trousers rolled up, hand in small hand.
Many beaches are Blue Flagged and life guarded, popular with adrenaline-seekers of all generations
- View Cottages -
Luxury Holiday Cottages
A holiday is an opportunity to spoil yourself, to relax in the cottage of your dreams and create memories to cherish forever.
Time away from everyday stress is precious and you deserve something a little special, more opulent than your own home and certainly more comfortable than boutique hotels. This exclusive selection of holiday homes of distinction, places of style and comfort that you'll want to return to time after time.
All these cottages have something truly special to offer, from contemporary designer fabrics and soft furnishings to state-of-the-art bathrooms and kitchens. Immerse yourself in a little luxury...
Go To Offer
Special Offers on Selected Cottages at Helpful Holidays with Up To

25% Off
Expires: Until Further Notice
Helpful Holidays

Voucher Codes, Deals and Offers for August 2021