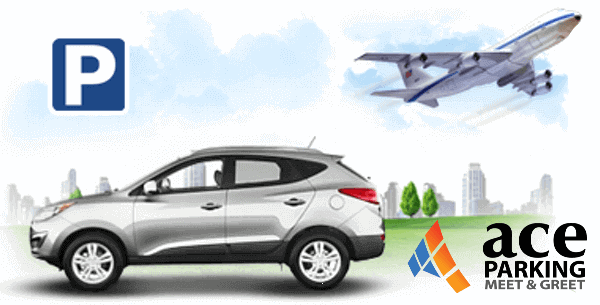 Ace Airport Parking Head Office
London Road
Lowfield Heath
Crawley
West Sussex
RH10 9SW
—------------------------------->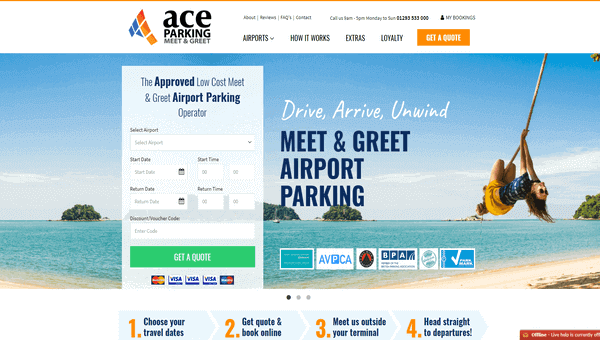 About Ace Airport Parking
Ace Airport Parking offer Meet and Greet Parking at Airports including Gatwick, Heathrow, Stansted, Birmingham and Edinburgh.
The award winning meet and greet parking allows you to drive straight to the airport terminal, drop off your car with the awaiting chauffeur, and head straight to your check-in. That is it. The chauffeur will then drive and park your car for you in a highly secure car park, near to the airport. On your return, call the reception when you have collected your luggage and are ready for your car, and your driver will meet you outside of the terminal with your car, exactly as you left it.
Ace Airport Parking recognise that safety and security of their car parks is very important to customers and hold the Park Mark® Safer Parking award – a national police-backed initiative – awarded to parking facilities that are properly managed and maintained and provide a safe environment for both vehicles and customers.
Use any of our valid Ace Airport Parking Voucher Codes, Deals and Special Offers to reduce the cost of your airport parking
Meet and Greet Parking is convenient, and stress free by meeting you at your designated terminal and parking your car for you
- Book Airport Parking -
Edinburgh Airport Parking
Choose from low cost Park and Ride, or the extra time saving Meet and Greet option for a safe, secure and reliable parking service
- Book Airport Parking -
Parking options are Park and Ride, and Meet and Greet services, designed especially for families, business travellers and groups
- Book Airport Parking -
Birmingham Airport Parking
Offering Meet and Greet parking at all five terminals this is the most convenient way to park your car at Heathrow airport
- Book Airport Parking -
Gatwick offers Park and Ride as well as Meet and Greet parking service, suitable for families, business travellers and groups
- Book Airport Parking -
Ace Airport Parking Voucher Codes and Offers for January 2022
Ace Airport Parking