Related Categories
More Holiday and Travel Providers
£10 Off
per BOOKING on Hotel and Flights and Hotel Only using Voucher Code
ATHENA BEACH HOLIDAYS VOUCHER CODE
Press on Voucher Code to Highlight
, then
Press to

COPY

, and then visit
ATHENA BEACH HOLIDAYS
Insert Code by

PRESSING

in the

Promotional Code Box

before Payment and Select

PASTE

then select

APPLY

to get your Discount
Expires: January 1st 2019
£5 Off
per PERSON on Hotel and Flights and Hotel Only using Voucher Code
Expires: January 1st 2019
£7.50 Off
per PERSON on Hotel and Flights and Hotel Only using Voucher Code
Expires: January 1st 2019
£20 Off
per BOOKING on Hotel and Flights and Hotel Only using Voucher Code
Expires: January 1st 2019
£10 Off
per PERSON on Hotel and Flights and Hotel Only using Voucher Code
Expires: January 1st 2019
£15 Off
per BOOKING on Hotel and Flights and Hotel Only using Voucher Code
Athena Beach Holidays
(c/o Constant Travel)
The Gaslight
Lower Warrengate
Wakefield
WF1 1SA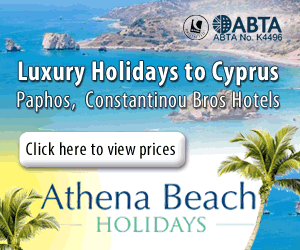 Athena Beach Holidays offer a superb choice of luxury holidays to Constantinou Bros Hotels in Paphos, Cyprus. The Athena Beach Hotel offers a wide range of amenities for couples and families in a superb beach front location for a marvellous Mediterranean sea holiday. A delicious selection of dining options are offered with a choice of five themed restaurants and three bars to keep you entertained as well as three swimming pools and two children's pools.
For adults and couples only, the Athena Royal Beach Hotel and the Pioneer Beach Hotel provide wonderful beach side settings, with modern accommodation and a range of facilities including health spa with body treatments to rejuvenate the body and relax in the spacious and mature gardens. A choice of three restaurants and bars are also available.
For luxury holidays to Paphos, the Asimina Suites is a perfect choice for adults and couples seeking luxury accommodation with spacious and contemporary suites, high levels of service and fine dining in a choice of four restaurants and a luxury spa with a wide range of treatments.
Athena Beach Holidays offers a wide choice of holiday options from family holidays, couples holidays, dancing holidays, bowls holidays and weddings in Cyprus so check out the latest special offers and Athena Beach Holidays voucher codes to get your self a great deal for your holiday in Cyprus
About Athena Beach Holidays
Book the Asimina Suites Hotel
Luxurious all suite hotel for adults, offers superb facilities in an impressive and secluded beach side location
Book the Pioneer Beach Hotel
Situated on a beautiful sandy beach area of Paphos, this 4-star luxurious hotel is perfect for child free holidays
Book Athena Royal Beach Hotel
Adults only with a superb selection of facilities for couples and adults on a wonderful beach front setting
Book the Athena Beach Hotel
An elegant and modern four star superior property by the beach is ideal for families and couples of all ages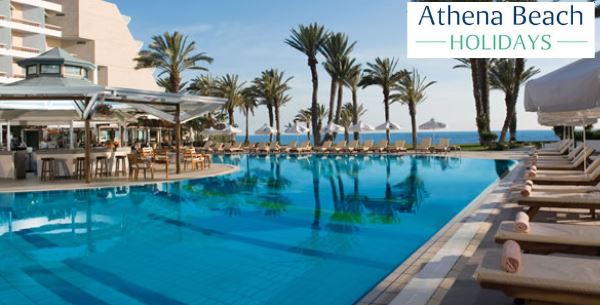 Athena Beach Holidays Voucher Codes
Expires: Ongoing Offer
Special Offers
to Paphos Cyprus
Choice of special offers to Paphos Cyprus for the Athena Beach Hotel, Athena Royal Beach Hotel, Pioneer Beach Hotel and the Asimina Suites Hotel. Special offers include free half board upgrades and early booking discounts
January 2020 Voucher Codes and Offers