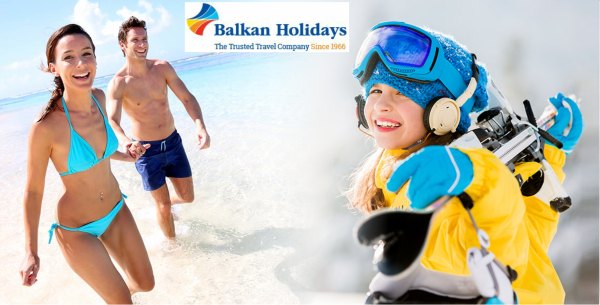 Balkan Holidays
Sofia House
19 Conduit Street
London
W1S 2BH
—------------------------------->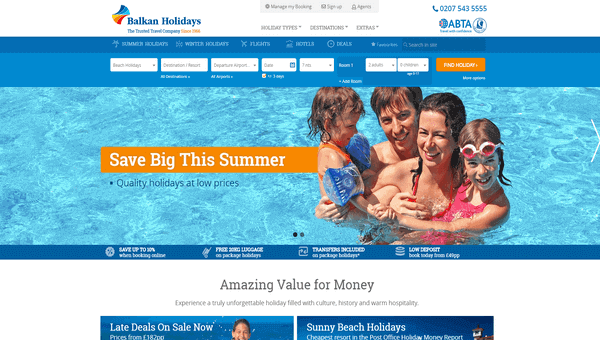 About Balkan Holidays
Balkan Holidays provide holidays to Bulgaria, Croatia, Slovenia, Romania and Montenegro. Choose from great value summer beach holidays, winter ski, a lakes & mountains holiday, tours and excursions, or a Bulgarian city break in Sofia, Varna or Bourgas, or even a last minute holiday deals and low cost flight to Bulgaria.
Whether you are Skiing or Snowboarding, taking a Summer Beach Holiday, taking a Flight Only or simply staying in one of the extensive range of Low Cost Hotels you are sure to have a great holiday using the latest Balkan Holidays Voucher Codes, Promo Codes, Deals and Special Offers
Endless hours of sunshine, clean warm water and long stretches of golden sand. This may sound like an unreachable dream destination thousands of miles away but in fact it's not. It's the only way to describe the beautiful beach resorts of Bulgaria, Croatia, Montenegro and Slovenia.
From the golden beaches of the Bulgarian Black Sea Coast to the picturesque historical towns of Croatia, it makes for a perfect beach holiday destination whether you're on a budget or looking to spoil yourself on a luxurious break. Balkan Holidays are proud to show exactly why they are the number one tour operator to Bulgaria, Croatia, Montenegro, Slovenia and Romania with more resorts, more hotels, more all inclusive and more variety than any other British Tour Operator to the region.
- Book Now -
Balkan Holidays Beach Holidays
Croatia has one of the most beautiful coastlines in the world. Endless coves, beautiful beaches sheltered by lush pine woods and small coastal towns and villages, decorate the mainland coast and its 1244 islands and islets. The wealth of this coastline attracts adventurous travellers from all over the world - kayakers, divers and yachtsmen never fail to be delighted by these islands and their romantic atmosphere infused with a relaxed way of life - all set amid tranquillity and beauty.
So, whether your summer holiday to Croatia is spent relaxing in the sun in a vibrant resort, or soaking up the culture in a resort where time can stand still, or even if you fancy exploring some of Croatia's lush green hinterland and Lakes & internal rivers, a summer holiday to Croatia has something for you!
- Book Now -
Book a Holiday in Croatia
Slovenia is a heaven for adventurous spirits with a huge variety of exciting activities to suit every taste. The coastal areas offer an endless choice of water sports, including sailing, windsurfing, diving and swimming or a refreshing dip in the spring and mud baths in the resort of Portoroz. And if you've had your full of the beach and its attractions, the beautiful lakes and mountain regions of Kranjska Gora, Lake Bled and Lake Bohinj offer horseback riding, river rafting, kayaking, fishing, hunting and hiking, all set to the backdrop of some of the world's most beautiful scenery.
So, whether your ideal holiday to Slovenia is spent relaxing in a tranquil setting with a breathtaking backdrop, or relaxing under the sun on a Slovenian beach, Slovenia has the perfect resort for you!
- Book Now -
Book a Holiday in Slovenia
Romania offers a peaceful, relaxing setting for your ski holiday, whether you are a beginner looking to take advantage of the excellent tuition available or either intermediate or an advanced skier who is looking for somewhere different to explore this winter.
Romania is famous for being home to Europe's highest population of Brown Bears and home to over a third of all European plant species the Carpathians are now becoming more recognised for their fantastic up and coming ski and snowboard resorts. Without doubt Romania's most popular and most developed ski resort is Poiana Brasov, which continues to grow each year in popularity due to its continued investment in its infrastructure, while still remaining fantastic value for money.
- Book Now -
Book a Ski Holiday in Romania
Marvel at the seaside stone-built towns in sunny blue bays with lovely beaches made up of small pebbles and coarse sand, guarded by the lofty peaks of the Montenegrin mountains. Sub-tropical climate with lush flowers and shrubs, olives and mimosas growing in the brilliant sunshine. A truly hospitable and relaxing atmosphere which dappled by the open-air stages, festivals and celebrations make the summer in Budva, Petrovac and Becici an ever lasting moment.
There are a great variety of water sports offered at the main resort beaches, or to sample Montenegro's beauty make sure you head inland and experience the country's timeless stone villages, the dramatic fjord-like Bay of Kotor or the untouched Lake Skadar.
- Book Now -
Book a Holiday in Montenegro
Bulgaria holidays offer contrast after contrast - from rich cultural traditions, deep, dense forests and breathtaking mountain ranges that dominate the landscape, to the purpose-built resorts that line its scenic Black Sea Coast, where broad, Blue Flag sandy beaches meet inviting blue waters along almost 400 kilometres of shoreline.
Whatever holiday you are seeking - relaxing on the beach of a Bulgarian seaside resort, throwing yourself into an action-packed ski holiday, cooling off exploring traditional timeless villages and forested mountains or enjoying the precious gift of natural mineral springs - Bulgaria is sure to deliver.
- Book Now -
Book a Holiday in Bulgaria
Expires: Until Further Notice
Go To Offers
Special Offers -
Save Up To £350 Per Person

with Balkan Holidays

Discounted Summer and Winter Holidays to Bulgaria
Expires: Until Further Notice
Go To Deals
Last Minute Holiday Deals
with Balkan Holidays
Last Minute Deals to Bansko, Borovets and Pamporovo from your local UK airport, available for 7 nights
Balkan Holidays
Balkan Holidays Voucher Codes and Offers for January 2022