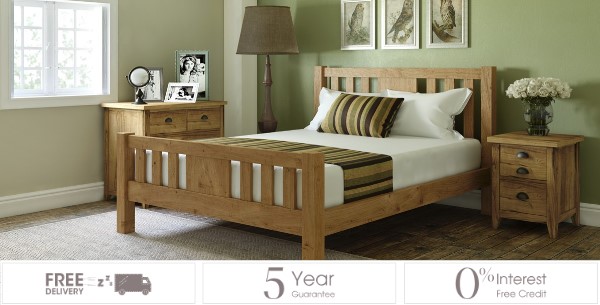 Bensons for Beds Customer Services
Huncoat Industrial Estate
Bolton Avenue
Accrington
Lancashire
BB5 6NJ
—------------------------------->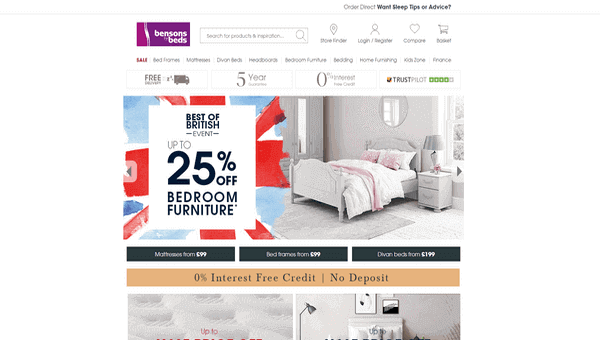 About Bensons For Beds
Bensons For Beds brings you a huge range of bed styles, including leather bedstead, wooden bedsteads, metal bedsteads, children's beds and famous name UK branded beds including Sleepmasters, Silentnight, iGel, Sealy and Sensaform.
As well as beds, there is a range of other bedroom furniture and additions including Headboards, Bedding, Furnishing and a Kids Zone with bedroom furniture for the young ones, plus pillows and accessories and a number of exciting bedroom furniture ranges.
Bensons for Beds offer FREE DELIVERY on everything although if you require a weekend delivery, it can be delivered on Saturdays for just £20.
Use any of our valid Bensons For Beds Voucher Codes, Deals and Special Offers to save yourself some cash on a new bedroom makeover, or just a bed, mattress or some new bedroom furniture.
- View Kids Zone -
Just for the kids bedroom including Bunk & Sleeper Beds, Children's Mattresses plus Chest of Drawers and Wardrobes
A good night's sleep is key to keeping both kids and parents happy and healthy – and that starts with a comfy bed they can call their own. Once you've settled on a style – bunk, mid-sleeper or desk bed – add fun storage solutions with children's bedroom furniture to help keep kids' space safe and calm.
Kids Zone
- View Furniture -
A range of bedroom storage solutions including wardrobes, chest of drawers, dressing tables plus chairs, stools and accessories
A stylish and comfortable bed is just the start of great bedroom design. Clear away clutter to create a peaceful haven with our range of bedroom storage solutions – from wardrobes and chest of drawers fit for the biggest clothes collections, to dressing tables for tiny treasures.
Bedroom Furniture
- View Bedding -
Bensons for Beds have created a range of bedding to suit every type of sleeper.
Choose your duvet from a range of fillings, add the perfect pillows and finish it off with our beautiful bed sheets and duvet cover sets to create your ideal nest.
Bedding range includes Pillows and Pillowcases, Duvets, Mattress Protectors, Mattress Toppers and Extra Deep Fitted Sheets.
Bedding
- View Headboards -
Update your current headboard with a new Metal, Faux Leather, Wood or a upholstered headboard
A great headboard can be the starting point to a new bedroom design or an affordable way to update your current décor. Go classic with a wooden headboard or discover our upholstered headboards for a luxurious feel.
Headboards
- View Divan Beds -
A stylish storage solution takes the form of the divan bed. Simply pull the integrated drawers from the base to uncover the perfect place to store shoes, clothes and seasonal bedding.
Divan beds are available in a range of storage options namely Ottoman storage, 4 Drawers, 2+2 Drawers and 2 Drawers, and sizes, including single, double and king size, so you'll be sure to find one to suit your bedroom.
Divan Beds
- View Mattresses -
A range of mattresses to suit every sleeper. Each mattress is guaranteed for a year, or five years if they're purchased with a bed frame
Turn your bedroom into a sleep sanctuary with a brand-new mattress from Bensons for Beds. Whether you're looking for a single guest mattress, a double memory foam mattress or a king size pocket-sprung mattress, a range of sleeping aids are available to suit a range of sleeping styles.
Mattresses
- View Bed Frames -
A range of faux leather, sleek metal or a classic wooden bed frame in sizes including single, double king size and also super king size
Bed Frames types:.
Wooden Beds, Faux Leather Beds, Metal Beds, Ottoman Bed Frames, TV Bed Frames, Fabric Bed Frames, Sofa Beds, Kids Beds and Guest Beds
Bed Frames
Expires: Until Further Notice
Go To Clearance
Last Chance To Buy in the Bensons for Beds Clearance
Grab a bargain with clearance bed frames, bedroom furniture and headboards, with unbeatable sale prices plus free delivery...but hurry, limited stock available
Expires: September 28th 2021
Go To Sale
Up To
50% Off

on Divan Beds, Bed Frames, Mattresses and Furniture with the Bensons for Beds Sale
Expires: September 28th 2021
Go To Offer
Up To
50% Off

Divan Beds at Bensons for Beds
Expires: September 28th 2021
Go To Offer
Up To
50% Off

Mattresses at Bensons for Beds
Expires: September 28th 2021
Go To Offer
Up To
50% Off

Bed Frames at Bensons for Beds
Expires: September 28th 2021
Go To Offer
Buy One, Get One Half Price
on Bedroom Furniture in the Bensons for Beds Sale
Expires: November 30th 2021
Use Voucher Code
Get
£25 Off

£500 spend with Bensons for Beds using Voucher Code!
Bensons for Beds
Bensons For Beds Voucher Codes and Offers for September 2021