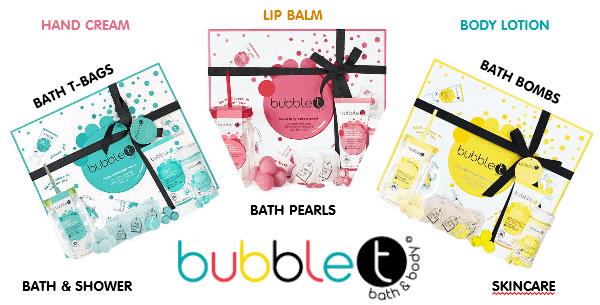 Bubble T Cosmetics Ltd
Unit 11 Broadbent Close,
20-22 Highgate High Street,
London
N6 5JW
—------------------------------->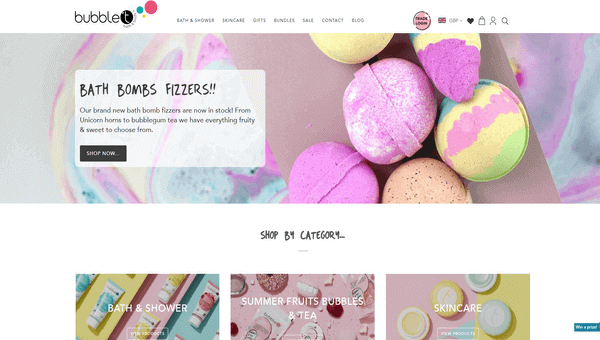 Bubble T Cosmetics
Bubble T Cosmetics are a colourful, vibrant and quirky bath & body brand who are obsessed with all things tea related. Known for products that not only look and smell amazing but will leave you feeling great too! When it comes to beauty Bubble T Cosmetics believe that health matters and this is what ultimately shapes the nature of their products, which are Paraben & SLS free.
The initial inspiration however came from the Vibrant and colourful Taiwanese drink which has rapidly become a popular craze all over Britain during the last few years.
Bubble T Cosmetics brings you a bath and body range of rich tea based infusions, mixed with fruit essence and extracts. Bath & Shower range of Shower Gels, Bath Bombs, Bath T-Bags and Bath Pearls, plus Skincare products including Hand Cream and Lip Balm plus Gifts Sets.
Different teas can provide benefits in different ways such as aiding sleep, speeding up blood circulation and even waking you up! Extensive research has helped to combine different benefits offered by tea as an ingredient in toiletries to create a range which replenishes, cleanses and hydrates your skin as well as provide a long lasting fresh smell.
Use any of our valid Bubble T Cosmetics Voucher Codes, Deals and Special Offers to save on the Bubble T bath and body range.
A selection of gift sets that include all or some of the product range including Shower Gels, Bath Bombs, Bath T-Bags, Bath Pearls, Hand Cream and Lip Balms
- View Gift Sets -
This luscious Macaroon Lip Balms contains all of the sweetness of a macaroon ultra-moisturising formula which will smooth and soften chapped lips
- View Lip Balms -
Using fruit infusions and wonderful tea notes. These oil pearls dissolve in warm water releasing a gorgeous oil to soften your skin and fragrance your experience
- View Bath Pearls -
Nourish your hands with all the antioxidant goodness you can imagine. The reviving cream of Moroccan Mint Tea Blend will smooth and soften your hands
- View Hand Creams -
Bath infusion T-bags are designed to infuse your bath just the way you like it, delivering nourishment and hydration to all skin types
- View Bath T-Bags -
Clear your mind and awaken your senses to 3 sensational aromas, Moroccan Mint Tea, Green Tea & Lemongrass and Hibiscus & Acai Berry Tea
- View Bath Bombs -
This invigorating shower gel collection comes in all three fragrances - Moroccan Mint Tea, Lemongrass & Green Tea, Hibiscus & Acai Berry
- View Shower Gels -
Bubble T Cosmetics
Bubble T Cosmetics Voucher Codes and Offers for January 2022