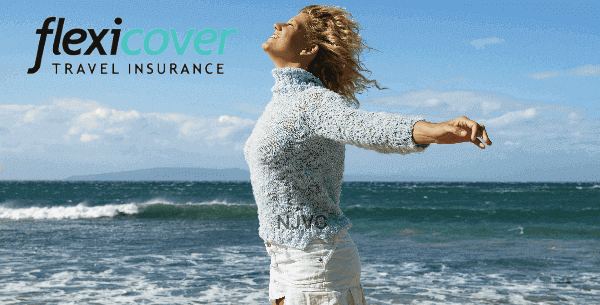 Flexicover Travel Insuranc
109 Elmers End Road
Beckenham
Kent
BR3 4SY
—------------------------------->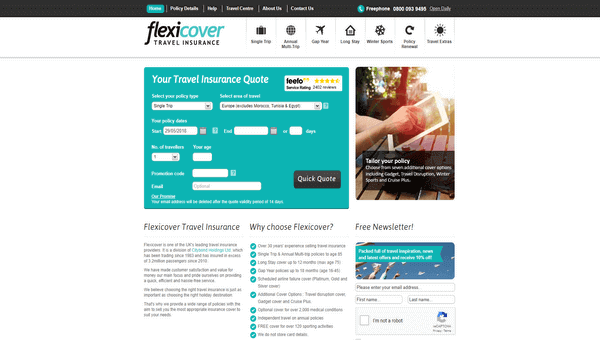 About Flexicover Travel Insurance
Flexicover Travel Insurance is a leading provider of travel insurance products with a wide range of policies for families, senior citizens, backpackers and students abroad including Single Trip and Annual Multi-trip policies up to the age of 85, Long Stay cover up to 12 months, Gap Year policies up to 18 months, scheduled airline failure cover on Platinum, Gold and Silver cover. You can also tailor your policy with additional cover options including Travel disruption cover, Gadget cover such as mobile phones and laptops, and Cruise Plus, cover for over 2,000 medical conditions and FREE cover for over 120 sporting activities.
Using any of our valid Flexicover Travel Insurance Voucher Codes, Deals and Special Offers to further reduce your travel insurance premium.
Have an overseas holiday home for the winter months or a two week holiday is not enough such as in Brisbane, Australia (pictured right), then take a Long stay policy
Long stay cover up to age 75

Single trip cover for 3 to 12 months

Cruise holidays covered at no extra cost

Optional pre-existing medical condition cover

One way trips covered, cover ends 12 hours after arrival at the final destination

Automatic cover for over 120 activities including safaris, trekking (up to 3,000m)

Save even more with a couple or family policy
- Purchase Insurance -
Long Stay Travel Insurance
Take some time out to travel the world? Maybe you're going on a backpacking holiday, or maybe you're going abroad to study?
Cover available between age 16-45

Maximum trip duration of 18 months

Temporary returns home allowed

FREE cover for over 120 sporting activities

Gold Plus covers computer equipment up to £1,000 & course fees up to £2,000

Discount for 2 people travelling on the same policy

Optional Winter Sports Travel Insurance (including equipment, avalanche cover and piste closure)
- Purchase Insurance -
Gap Year Travel Insurance
Ideal for skiers and snowboarders, including benefits which cover loss or damage to your ski equipment or ski pass and if your equipment is lost by your carrier
Single trip cover up to and including age 70

Cover for trips up to 100 days

Cover available for extended winter sports trips on Gap Year and Long Stay policies

Cover provided for over 25 winter sports activities

24 hour medical assistance help line

Optional pre-existing medical condition cover

Winter sports cover is also available on Annual Multi-trip, Long stay and Gap Year policies
- Purchase Insurance -
Winter Sports Travel Insurance
As long as your trip starts and ends in the UK, you can travel as many times as you like in a year by buying Annual Multi-trip travel insurance
Cover available up to age 85

Independent travel at no extra cost

Choose from 4 levels of cover

Covers trips of 35, 50 or 100 days (subject to age)

No limit on the number of trips throughout the year

Optional cover for pre-existing medical conditions

Optional 17 days Winter Sports Travel Insurance

Save even more with a family, couple or single parent family policy
- Purchase Insurance -
Annual Multi-trip Insurance
Single Trip Travel Insurance is ideal if you are planning your yearly holiday or maybe a short break. Trips are covered for up to 100 days
Single Trip cover with no upper age limit

Cover for trips up to 100 days

FREE cover for over 120 sporting activities

No extra cost for cruise holidays

4 levels of cover to choose from

One way trips covered

Scheduled airline failure cover

Save even more with a family, couple or single parent family policy
- Purchase Insurance -
Single Trip Travel Insurance
Flexicover Travel Insurance
Flexicover Travel Insurance Offers for May 2022