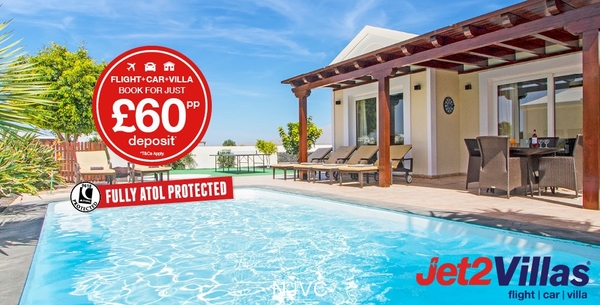 Customer Service
Jet2holidays
PO Box 284
Leeds
LS11 1GE
—------------------------------->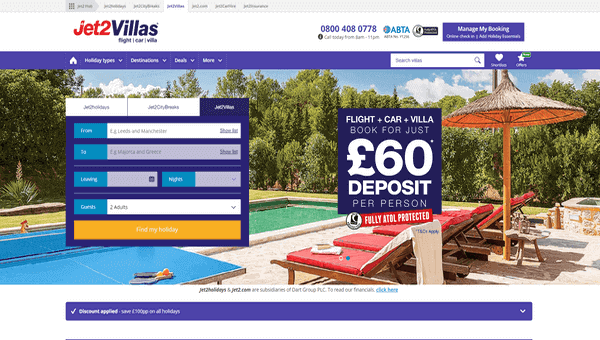 About Jet2 Villas
Get your next villa holiday all wrapped up with Jet2 Villas.
You'll enjoy all the package perks of Jet2holidays, but with the freedom of a villa holiday. That includes return Jet2.com flights, 22kg baggage and even car hire all included for just £60pp deposit. It's easy to tailor your holiday search too, with choices ranging from individual villas with self catering and your own private pool to hotel resort villas that make the best of both worlds.
There are over 35 destinations for you to discover, including Spain villa holidays to the Costa Blanca, Costa Del Sol, and Majorca. You could even opt for a self catering city apartment in the heart of cultural capitals such as Alicante, Dubrovnik, and Palma. And for added luxury, we also offer Indulgent Escapes villas famed for their serene settings and unrivalled facilities and décor. Wherever you choose, you can snap up your villa holiday right now for just £60pp deposit!
Wherever you choose, why not check out the latest Jet2 Villas Deals, Offers and Voucher Codes to get your self a great deal for your Villa Holiday.
Feel part of a community as neighbouring your villa will be a selection of similar properties and occasionally facilities that can be shared
- View Villas -
Complex Villas with Jet2 Villas
Book a Luxury Villa set in stunning surroundings with private pools and chic interiors and furnishings
- View Villas -
Indulgent Escapes at Jet2 Villas
Great for groups and big families, sleeping at least eight people, large villas offer all the facilities and space you need to have a great holiday
- View Villas -
Large Villa For Big Groups
Make sure you're never far away from the shore with a gorgeous selection of villas close to the beach
- View Villas -
Book a Villa Close to the Beach
Hotel resort villas not only boast private facilities but also benefit from the resort's hotel and range of shared facilities
- View Villas -
Book a Hotel Resort Villa
Expires: Until Further Notice
Go To Offer
Pay Just
£60 Deposit

Per Person to Secure Your Next Jet2 Villas Holiday

Get return Jet2 flights, 22kg Baggage and Car Hire all included for just £60 Per Person deposit
Expires: Until Further Notice
Go To Deals
Summer Villa Holidays 2022 with Jet2 Villas
Book a Villa Holidays in one of Europe's best spots, including the Costa del Sol, Majorca, Cyprus and the Algarve
Expires: Until Further Notice
Go To Deals
1000's of Deals on Villa Holidays with Jet2 Villas
Get return Jet2 flights, 22kg Baggage and Car Hire all included for just £60 Per Person deposit
Jet2 Villas
Jet2 Villas Voucher Codes and Offers for January 2022