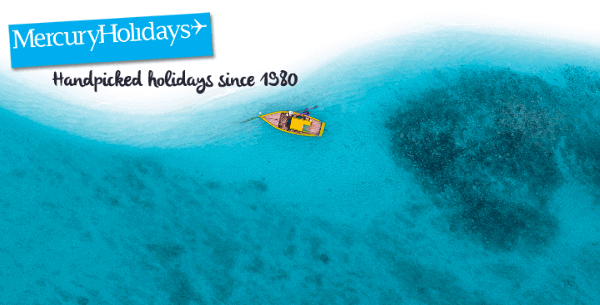 Mercury Holidays
St John's House
Suffolk Way
Sevenoaks
Kent
TN13 1YL
—------------------------------->
About Mercury Holidays
Mercury Holidays is a leading provider of package holidays, escorted tours and river cruises to destinations the world over - and all at unbelievable prices to destinations within Europe such as Malta, Cyprus, Egypt, Madeira, Portugal's Algarve, Spain and the Canary Islands, as well as Worldwide destinations in the Caribbean, Bali, Mauritius and Australia, Thailand, the United Arab Emirates, Dubai, Abu Dhabi, Mexico, Sri Lanka, Kenya,, Barbados, Maldives, Antigua, Vietnam and Saint Lucia.
Whether you are taking a Package Holiday, an Escorted Safari Tour, an all-inclusive River Cruise, a Rail Journeys or an Escorted Walking Tour, use any of our latest Mercury Holidays Voucher Codes, Promo Codes, Deals and Special Offers to cut the cost of your trip.
Mercury Holidays
2nd Week Free
Avoid the worst of the winter weather and choose one of a excellent long stay holiday offers. Receive a 2nd Week FREE at many of the hotels on offer, which means you can stay for longer at a fraction of the price.
3rd Week Free
Escape the British winter and make the most out of your money by choosing one of the excellent value, long stay, holiday offers! Book 3 weeks and receive the 3rd Week FREE! This offer is available at many of the hotels on offer, which means you have a wide choice of offers where you can stay longer, for less!
No Single Supplement Holidays
Single Travellers are welcome with us! We've secured hundreds of holidays with no single supplements meaning that single travellers can stay in a twin room without having to pay anything extra. Hurry though, as these popular offers do go quickly, so book early to save any disappointment.
Introducing Fly-Drive tours to the stunning islands of New Zealand. A country where snow capped mountains, volcanic terrain and glacial lakes are surrounded by pristine coastline. New Zealand is the pinnacle of natural beauty and carefully mapped routes guide you past the absolute highlights. With car rental, flights, ferry and accommodation covered, it's just up to you to drive between each destination.
Included are scheduled flights from London Heathrow to New Zealand with Emirates. The Interislander Ferry from Wellington (North Island) to Picton (South Island), car rental, 3 star or 4 star hotel accommodation at each destination along your chosen Fly-Drive and fully ABTA & ATOL protected.
- Book Now -
Book a New Zealand Fly Drive
Thailand is a land where ancient and modern have been blended harmoniously. Blessed with areas of spectacular scenery, juxtaposed with the bustle of cosmopolitan Bangkok, stunning Buddhist temples and welcoming locals it also offers some of the world's finest beaches.
Deciding on just one area of this stunning country to explore is an almost impossible task, so a Multi-Centre holiday will allow you to visit more than one destination in a single trip. Your Thailand experience starts with selecting your combinations with a variety of great value packages that are handpicked by a team of travel experts with suggested hotels in each destination.
- Book Now -
Book a Thailand Multi Centre Holiday
Escorted walking tours offer the ideal way to delve into a country's cultural fabric and natural splendour, allowing you to uncover hidden sights, scenic vistas and remote villages that might otherwise be missed.
The carefully selected itineraries are unique, cleverly combining walking with the chance to experience iconic sites and cultural phenomena all at the same time. These tours are designed with the walking enthusiast in mind; whether you enjoy a more gentle walk averaging three hours daily or challenging hikes through mountainous terrain. Enjoy a leisurely pace through Vietnam, fuller days of walking in Rajasthan or exhilarating treks through Peru and the Nepalese Himalayas, plus Madeira's Levadas.
- Book Now -
Book a Escorted Walking Tour
With a constant panorama of countryside and cityscapes, travelling by rail can make a truly memorable part of your holiday, often carrying you across landscapes inaccessible by any other form of transport.
Glide along smooth railroads and discover magnificent mountain scenery on our Glacier Express tour through Switzerland, marvel at the breathtaking landscapes of the Gotthard Pass en-route to Italy, embark on an adventure through Rajasthan's rich heritage on a Royal Indian Odyssey or experience the true flavours of Vietnam and Cambodia on a magical tour that combines intertwined histories with delicious, exotic cuisines and awe-inducing scenery.
- Book Now -
Book an Escorted Rail Journey
What better way to experience a unique perspective of Europe's most well known landmarks, marvel at spellbinding natural landscapes and discover unchanged hill-clinging towns, than with a charming river cruise.
Mercury Holidays have introduced eleven hand picked river cruise itineraries that they believe best showcase true European elegance, aboard ships that offer a first class service to Austria, France, Italy, Netherlands, Portugal, Russia and Spain. The additional benefit of these cruises, is the all-inclusive package* that allows you to wine and dine with complete peace of mind.
- Book Now -
Every hotel in each of the holiday destinations have been handpicked to make sure your holiday is synonymous with Mercury Holidays price and quality. From getaways in Europe to tropical escapes in the Indian Ocean, the broad range of hotels ensures you'll find the perfect hotel within your chosen destination to suit your needs.
Holiday destinations range from, in Europe, Spain and the Balearic Islands, Canary Islands, Portugal's Algarve and Madeira, Greece, Cyprus, Malta, Morocco and Turkey, or the long haul destinations of the Caribbean, Thailand, UAE, Dubai, Abu Dhabi, Mexico, Sri Lanka, Kenya, Bali, Mauritius and Maldives.
- Book Now -
Mercury Holidays provide award-winning All Inclusive holidays across 196 destinations worldwide. Booking an all-inclusive holiday gives you the peace of mind that the holiday you book is all paid for before you leave, meaning that your spending is saved for enjoying your trip.
The All Inclusive destinations range from the closer to home Spanish Costa's and Balearic Islands, The Canary Islands, Portugal's Algarve, Greece, Cyprus, Malta, Morocco and Turkey, to the further a field destinations of Thailand, United Arab Emirates, Dubai, Abu Dhabi, Mexico, Sri Lanka, Kenya, Bali, Barbados, Mauritius, Maldives, Antigua, Vietnam and Saint Lucia.
- Book Now -
Book an All Inclusive Holiday
Expires: Until Further Notice
Go To Offers
Mercury Holidays
Special Offers
View an amazing range of special offers. Including FREE weeks, long stay deals and no supplements for single travellers! These money saving holiday deals are available across a huge range of hotels for a fraction of price!
Mercury Holidays
Expires: Until Further Notice
Use Voucher Code
Book a Holiday to Malta and
Save £100

per person at Mercury Holidays using Voucher Code!
Mercury Holidays Voucher Codes and Offers for May 2022