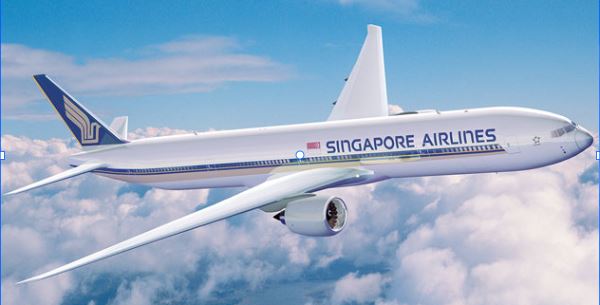 Singapore Airlines
566 Chiswick High Road
Chiswick
London
W4 5YS
—------------------------------->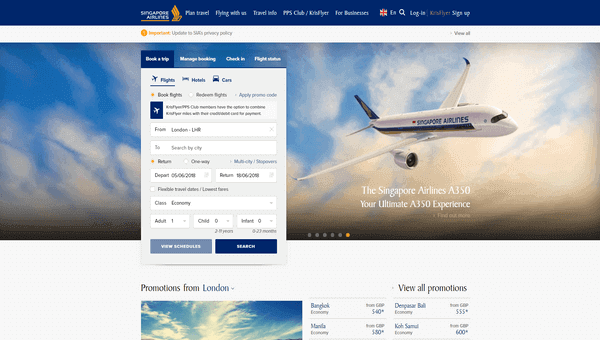 About Singapore Airlines
Singapore Airlines offers daily flights between London Heathrow and Singapore as well as a daily flight between Manchester and Singapore.
With an extensive network across Southeast Asia, Australia and New Zealand, it's never been easier to explore the world with Singapore Airlines so check in on our latest Singapore Airlines Voucher Codes, Promo Codes, Deals and Special Offers to reduce the cost of your flight.
Aptly called The City Of Sails, Auckland's vast harbour serves as the perfect jump-off point to visit nearby islands by ferry or sailboat. Whether you're into wining, dining, fishing, trekking or wildlife, there's an isle waiting to be explored
Central Auckland has a vibrant multi-cultural population and exciting culinary scene. Surrounding it are the vineyards, rainforests, thermal spas, regional parks and wildlife sanctuaries.
- Book A Flight -
Flights to Auckland, New Zealand
Boasting rich heritage, delectable cuisine and some of the best shopping in Indonesia. Today, the East Javanese city embodies a fascinating blend of the old and the new. Stroll down the charming area of the Old City, Chinatown and the Arab Quarter before enjoying gourmet creations at fine dining restaurants and calling it a night at one of the city's five star hotels.
Suramadu National Bridge (pictured) is magical to see at night as it is lit up with multi-coloured lights.
- Book A Flight -
Flights to Surabaya
Its temperate climate, chic boutique hotels and contemporary dining with an emphasis on sustainability make Sydney a top destination year round.
Whether it's exploring the beaches of Bondi, Bronte and Manly, delving into the urbanity of Potts Point, Darlinghurst and Paddington with their top restaurants and bars, or going further afield to the quiet achievers like Glebe and Balmain for quirky shopping, there is so much to discover.
- Book A Flight -
Flights to Sydney, Australia
From pristine beaches, verdant paddy fields and tropical jungles to rich cultural traditions that permeate almost every aspect of the lives of its inhabitants, Bali is the quintessential holiday destination.
Renowned for its colourful culture and scenic vistas, Bali has long been a favourite stop on many a travel itinerary. Whether you choose to lose yourself in the raucous nightlife of Kuta, shop up a storm in Seminyak or explore the temples of Ubud.
- Book A Flight -
Flights to Denpasar Bali
Malaysia's capital is a multicultural hotpot, a sizzling melee of people, cuisines, and cultures. From Little India to Chinatown, you'll be fascinated by the diversity of life.
Good curry houses, ground breaking art galleries, corporate headquarters and tranquil parks: they can all be found here, in one of the most visited cities in the world. Kuala Lumpur is an Asian economic powerhouse, too, but thanks to its hot tropical weather it's also one of the region's greenest.
- Book A Flight -
Flights to Kuala Lumpur
Bangkok is Southeast Asia's tropical metropolis. Vibrant and cosmopolitan, it is a place where cultures meet and coexist.
There's more to experience in Bangkok than ever before: world-class bars and restaurants; shimmering skyscrapers and shopping malls; and a plethora of cafés, boutiques and spas that offer a local twist on global trends. All the same, centuries-old heritage sites and traditional communities have so far resisted the surging tide of urban expansion.
- Book A Flight -
Flights to Bangkok
With its warm climate, world-class hotels and unbeatable eating options, Singapore is a great year-round destination.
The proliferation of luscious greenery makes for a good-looking city too and there are plenty of verdant, open spaces to enjoy, from the longstanding Botanical Gardens to the impressive Gardens by the Bay. When the heat or rain gets too much, you can take respite in the city's many shopping malls with their copious shops and restaurants.
- Book A Flight -
Flights to Singapore
Expires: Until Further Notice
Go To Deals
Singapore Airlines
Fare Deals

from Manchester Airport

Terms: Fare is subject to restricted availability. Fares are subject to change without notice due to currency fluctuations
Expires: Until Further Notice
Go To Deals
Singapore Airlines
Fare Deals

from London Heathrow Airport

Terms: Fare is subject to restricted availability. Fares are subject to change without notice due to currency fluctuations
Singapore Airlines
Singapore Airlines

Voucher Codes and Offers for May 2022