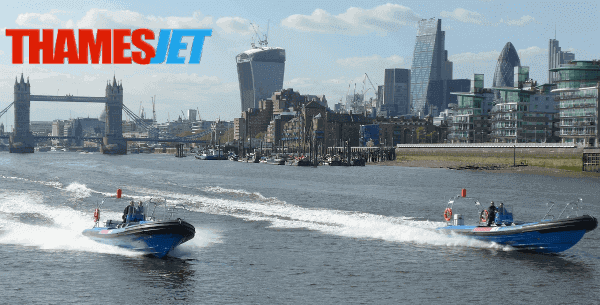 ThamesJet
Westminster Pier
Boarding Point F
Victoria Embankment
London
SW1A 2JH
—------------------------------->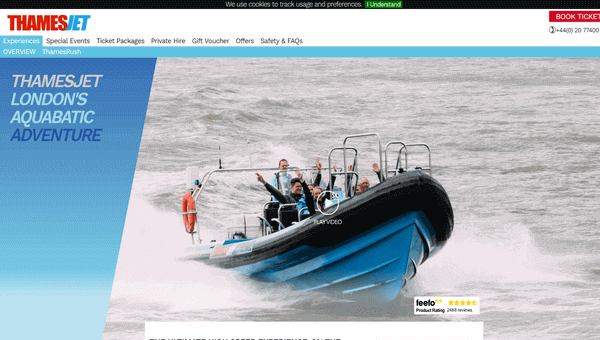 About ThamesJet
ThamesJet is a London Speed Boat Experience based on the Thames, and a fantastic way to see the city of London whilst enjoying a fun filled adrenaline experience. Combine your city break with sightseeing and water and enjoy a fun filled, adrenaline fuelled experience - the most extreme ride on the river.
The ThamesJet experience takes you past London's iconic sights. Sit back and enjoy the view as you pass some of the Capital's great bridges including the most modern, Millennium Bridge, as well as the world renowned Tower Bridge on your way to the fast zone. Additionally this experience is combined with The London Eye, The Shard View, James Bond & Locale Restaurant to provide a premium London sightseeing packages to provide an unforgettable visit to London, and to reduce the cost of this thrilling experience, then please use any valid ThamesJet Voucher Codes, Deals and Special Offers.
- Buy Tickets -
For Private & Corporate Hire, Teambuilding and Special Occasions
Looking to inject some fun into your day? Searching for a memorable addition to a big night out, stag do or hen party? Trying to find a unique activity to impress your guests? Then look no further - Thamesjet's speed boat hire in London is the ultimate high speed event!
ThamesJet offer a range of speedboat adventures on the River Thames, from the 50 minutes ThamesRush to the 75 minutes ThamesMax, all complete with Central London sightseeing, high-speed excitement and enthralling aquabatics. All speed boat tours and private boat hire packages have been adapted to make your experience completely unforgettable, plus, with so many to choose from you'll surely find something for you.
Whether you want to unleash your inner Bond and tear down the Thames before flying over it in a private hire helicopter (James Bond music included), or you want a unique team building activity including both a Thames rib experience and team building event, ThamesJet can help, whether you are looking for a quick 50-minute experience or a full-day.
ThamesJet Private Speed Boat Hire
- Buy Tickets -
Enjoy the London Eye views and see London from up above. A fun packed day of speed, sightseeing and aquabatics before visiting the Coca-Cola London Eye, the world's largest cantilevered observation wheel.
Your London Eye rotation takes around 30 minutes and your Ticket includes entry to the 4D Cinema Experience located at the back of the Ticket Office.
Locale County Hall is a spacious and relaxed restaurant just off the South Bank, serving traditional Italian dishes where you will enjoy a 3 course set menu and welcome drink.
Your Ticket Includes:
Thamesjet 50 minutes RUSH adventure

Entrance to the Coca Cola London Eye + 4D Cinema Experience

3 Course menu at Locale including welcome Drink
Ticket Prices - London Eye Meal Package
Online Price From
Adult (17+) £42.70

Child (3-15) from £33.10
- Buy Tickets -
Are you all about the adrenaline and excitement? Are you looking to do something a little different? Then Thamesjet have the perfect experience for you!
Find your inner Bond and enjoy an adrenaline fuelled 50 minute Jet boat ride along the Thames with sightseeing, speed, twists and turns then its high up in the sky for a helicopter trip that takes your breath away.
Thamesjet have teamed up with The London Helicopter to complete your Bond package. The London Buzz flight (10 minutes) offers uninterrupted panoramic views and the opportunity to see London landmarks from a totally unique perspective.
Your Ticket Includes:
Thamesrush 50 minutes experience

London Helicopter (10 minutes) flight over London (No trips available on the helicopter on Tuesday's or Thursday's)
- Buy Tickets -
The ThamesJet "Rush" is a 50 minute adrenaline fuelled fun speedboat experience, where you will enjoy sightseeing, speed and awesome aquabatics. You will see various iconic sights such as the Houses of Parliament and Elizabeth Tower that houses the world famous Big Ben, the London Eye, Shard and HMS Belfast to name a few, in fact you need to stay alert because the sights really do come thick and fast on this stretch of the river.
So sit back and enjoy the view as you also pass under some of the Capital's great bridges including the most modern, Millennium Bridge, as well as the world renowned majestic Tower Bridge on your way to the fast zone.
Once past Tower Bridge we are heading for speed, the experienced skippers will give you the aquabatic ride of your life! Twists and turns and wave jump and speed your way around Canary Wharf.
Ticket prices Thamesrush
Online Price From
Adult (17+) £39.00

Child (16 & Under) £29.00

Family (2A & 2C*) £129.00

Charter (up to 12 people) £429.00
Thamesrush 50 Minutes Experience
Use Voucher Code
Get
10% Off

when you book Thamesjet with City Cruises using Voucher Code
ThamesJet
ThamesJet Voucher Codes and Offers for May 2022