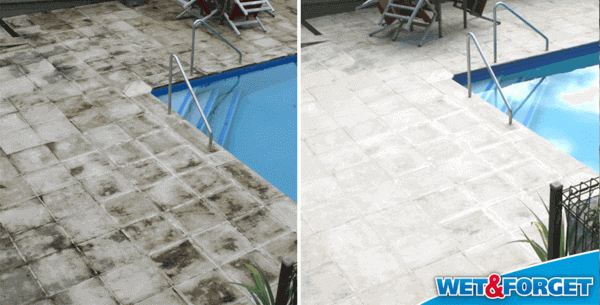 Wet and Forget
The Old Station
Moore Lane
Staines
Middlesex
TW18 4BB
—------------------------------->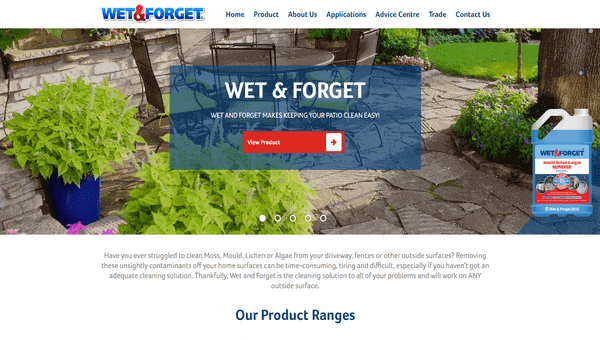 About Wet and Forget
Wet and Forget produce an excellent garden product which removes unsightly Mould, Lichen and Algae from Concrete, Patios, Garden Decking, Paths, Pavements, Fencing and Garden Walls, Wet & Forget can also be used on Greenhouses, sheds and conservatories removing and preventing the further growth of mould etc. Wet & Forget contains no bleach is almost PH Neutral and cleans any exterior surface safely with no water blasting or scrubbing required.
Wet And Forget has a significant presence and use in the Yachting and Marine Leisure environment, and are used by one of the UK's top sail cleaners based in Portsmouth. They apply Wet And Forget as part of their sail laundry process to prevent the build-up of mould, mildew and algae. Wet and Forget achieves this by activating each time the sail or surface becomes wet. This kills the spores that arrive and keeps doing so for up to a year. Wet and Forget is also used by the world's biggest super yachts down to the smallest of inflatable boats. Many yacht and boat owners use Wet and Forget as part of their annual algae removal.
Use any of our valid Wet and Forget Voucher Codes, Deals and Special Offers to save even more on removing and cleaning that unsightly Mould, Lichen and Algae from around your home or boat.
- Buy Thrust One -
These products can be used to effectively and efficiently distribute Wet & Forget over large areas in short periods of time. Suitable for commercial use these pump sprayers can clean offices and buildings with ease.
Not only can the Thrust One be used for applying Wet & Forget, they can also be used in domestic areas outside the home as an effective garden sprayer to distribute plant fertilisers.
Wet & Forget Thrust One
- Buy Window -
Wet & Forget Window is a unique window cleaning solution that combines smart surfactants to dissolve grime. Wet & Forget Window also contains citrate water softeners and high performance additives to sheet water from the window, eliminating water spotting.
Wet & Forget Window Cleaner has a newly developed Sniper Nozzle that will give you an 8 metre reach - Perfect for cleaning 2nd floor windows or conservatory roofs!
Wet & Forget Window
- Buy Indoor -
Wet & Forget Indoor is a sanitising and deodorising indoor surface cleaner. It effectively kills bacteria and contaminants.
Its simple formula is ready to use simply spray and wipe the surface - no scrubbing required!
Wet & Forget Indoor can be used on multiple surfaces throughout the home to remove mould and mildew.
Wet & Forget Indoor
- Buy Shower -
Wet & Forget Shower takes the hard work out of cleaning. No scrubbing or wiping needed—just spray on fixtures, shower curtains, enclosures, shower glass, tiles and baths, once a week, after the last shower of the day.
The next day, simply rinse the surfaces before or during your shower. Wet & Forget Shower's remote trigger sprayer makes your job even easier.
Wet & Forget Shower
- Buy Wet & Forget -
Wet & Forget has a unique combination of biodegradable selective surfactants for moss, mould, lichen and algae removal on any exterior surface.
Wet & Forget is an effective way of removing these contaminants from any exterior surface exposed to rainfall. Once applied the wind and the rain will gently takes the decomposing material away bit by bit until the surface is clean.
Wet & Forget
Wet and Forget
Wet and Forget

Voucher Codes and Offers for January 2022