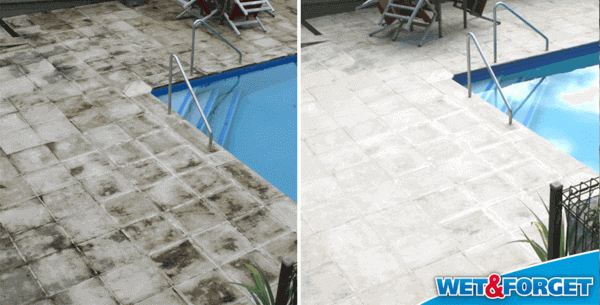 Wet and Forget
The Old Station
Moore Lane
Staines
Middlesex
TW18 4BB
—------------------------------->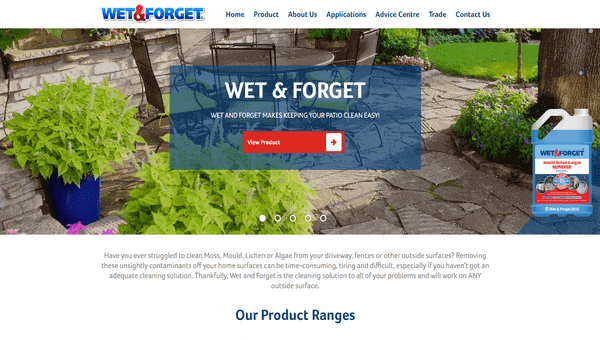 About Wet and Forget
Wet and Forget produce an excellent garden product which removes unsightly Mould, Lichen and Algae from Concrete, Patios, Garden Decking, Paths, Pavements, Fencing and Garden Walls, Wet & Forget can also be used on Greenhouses, sheds and conservatories removing and preventing the further growth of mould etc. Wet & Forget contains no bleach is almost PH Neutral and cleans any exterior surface safely with no water blasting or scrubbing required.
Wet And Forget has a significant presence and use in the Yachting and Marine Leisure environment, and are used by one of the UK's top sail cleaners based in Portsmouth. They apply Wet And Forget as part of their sail laundry process to prevent the build-up of mould, mildew and algae. Wet and Forget achieves this by activating each time the sail or surface becomes wet. This kills the spores that arrive and keeps doing so for up to a year. Wet and Forget is also used by the world's biggest super yachts down to the smallest of inflatable boats. Many yacht and boat owners use Wet and Forget as part of their annual algae removal.
Use any of our valid Wet and Forget Voucher Codes, Deals and Special Offers to save even more on removing and cleaning that unsightly Mould, Lichen and Algae from around your home or boat.
Sail and Boat Cleaning
Use Wet & Forget for Sail and Boat Cleaning and Harbour Walk Ways, Slipways, Paths and Walls
Thrust One Sprayer
Choose a Durable, Professional and Efficient Thrust One Sprayer to use with Wet & Forget
Wet & Forget Shower
Effectively Dissolve Soap Scum, Body Fats, Oils, Grime and Mould with Wet & Forget Shower
Wet & Forget
Remove Moss, Mould, Gunge and Grime from ANY Exterior Surface without scouring the surface
Expires: December 31st 2021
Use Voucher Code
Get
5% Off

Wet and Forget Products using Voucher Code
Expires: December 31st 2021
Use Voucher Code
Get
10% Off

Wet & Forget Shower using Voucher Code
Expires: December 31st 2021
Use Voucher Code
Get
10% Off

Wet and Forget Products using Voucher Code
Wet and Forget
Wet and Forget

Voucher Codes and Offers for March 2021